EMPLOYMENT-BASED IMMIGRATION – FIRST (EB-1A, EB-1B) AND SECOND PREFERENCE (EB-2/NATIONAL INTEREST WAIVER)
U.S. immigration law provides foreign nationals with a variety of ways to become lawful permanent residents and receive a Green Card through employment in the United States. We have helped scores of clients from around the world determine the category that best suits their background, personal circumstances, and needs.
An equally important factor and variable to consider is the regulatory environment – all regulatory agencies, and the United States Citizenship and Immigration Services Office of the Department of Homeland Security is no exception – are subject to policy and procedural changes.
Based on our extensive experience, we monitor all regulatory and policy changes continuously and advise our clients accordingly, helping them to choose the right category at the right time in their career. Take for instance the current quota for EB-1 for China and India, which went into temporary retrogression on May 11, 2017. What this means is that until new allotments of Green Cards are released on October 1, 2017, no further Green Cards can be issued to citizens of Chinese and Indians applicants under the EB1 Green Card program. Similar quotas apply for NIW. The message here is do not delay if you think you might qualify.
And, if you are from countries other than China and India and possess the requisite qualifications for EB-1A, 1B, or 1C, or NIW, your chances of being approved are greater and within a shorter amount of time. Because Green Cards remain available for residents of other countries, individuals from many other locations are eligible and can be processed quickly providing they have the requisite qualifications. We have worked with a host of these clients including those from Korea, Taiwan, Japan, Vietnam, countries throughout Eastern Europe and the Middle East, and in Africa.
Another consideration is if you believe you qualify for both EB-1A or EB-1B categories, you may also consider applying for NIW simultaneously – both can be granted by USCIS if you meet the qualifications.
In a highly competitive environment, NIW also offers certain advantages that need to be carefully evaluated. The NIW category generally provides individuals with advanced degrees a less onerous standard than required for EB-1A for instance – individuals with fewer than 100 citations, for example, may find it more difficult to meet the EB-1A standard.
---
EVERY CASE IS DIFFERENT AND WE WORK WITH YOU TO TAILOR THE APPLICATION IN WAYS TO MAXIMIZE YOUR OPTIONS AND REDUCE YOUR RISK.
---
THESE EMPLOYMENT-BASED (EB) "PREFERENCE IMMIGRANT" CATEGORIES INCLUDE:
First preference (EB-1)
– designated for priority works:
EB-1A – foreign nationals with extraordinary ability in the sciences, arts, education, business, or athletics;
EB-1B – outstanding professors and researchers;
EB-1C – certain multinational managers and executives.
Second preference (EB-2)/National Interest Waiver
Foreign nationals who are members of the professions holding advanced degrees or who have exceptional ability, and may wish to seek non-employer based National Interest Waiver status. This requires meeting EB-2 requirements, but applicants may seek a waiver of the employment requirement.
Provided below is a table ( View Table ) that clearly describes the eligibility criteria for EB-1A, EB-1B, EB-1C, and EB-2/NIW, including evidence, required for these EB categories.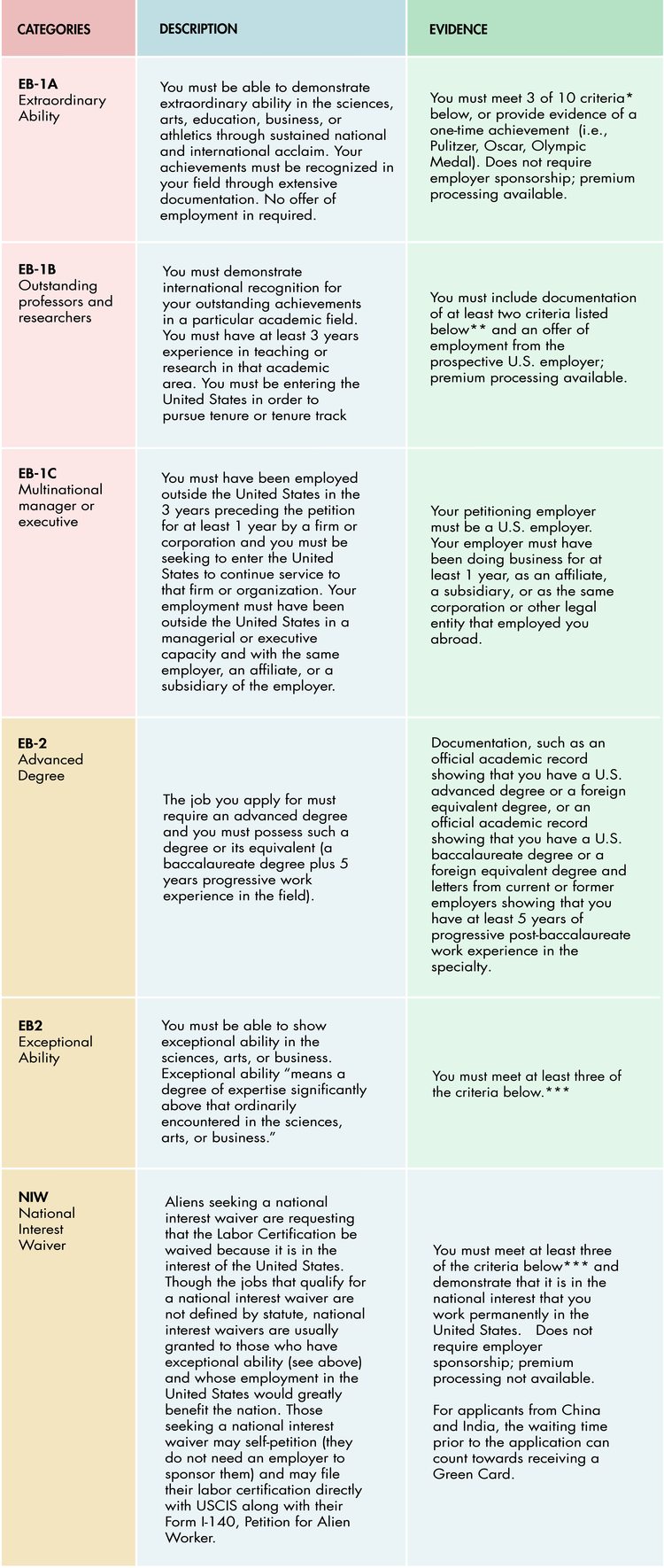 ---
* EB-1A, Criteria for Demonstrating Extraordinary Ability
You must meet 3 out of the 10 listed criteria below to prove extraordinary ability in your field:
Evidence of receipt of lesser nationally or internationally recognized prizes or awards for excellence
Evidence of your membership in associations in the field which demand outstanding achievement of their members
Evidence of published material about you in professional or major trade publications or other major media
Evidence that you have been asked to judge the work of others, either individually or on a panel
Evidence of your original scientific, scholarly, artistic, athletic, or business-related contributions of major significance to the field
Evidence of your authorship of scholarly articles in professional or major trade publications or other major media
Evidence that your work has been displayed at artistic exhibitions or showcases
Evidence of your performance of a leading or critical role in distinguished organizations
Evidence that you command a high salary or other significantly high remuneration in relation to others in the field
Evidence of your commercial successes in the performing arts
* EB-1B, Examples of Documentary Evidence That A Person is an Outstanding Professor Or Researcher
Evidence of receipt of major prizes or awards for outstanding achievement
Evidence of membership in associations that require their members to demonstrate outstanding achievement
Evidence of published material in professional publications written by others about the alien's work in the academic field
Evidence of participation, either on a panel or individually, as a judge of the work of others in the same or allied academic field
Evidence of original scientific or scholarly research contributions in the field
Evidence of authorship of scholarly books or articles (in scholarly journals with international circulation) in the field
Application Process
Extraordinary Ability: You may petition for yourself by filing a Form I-140, Petition for Alien Worker.
Outstanding Professors and Researchers: Your employer must file a Form I-140, Petition for Alien Worker.
Multinational Manager or Executive: Your employer must file USCIS Form I-140, Petition for Alien Worker.
---
*EB-2/NIW Criteria
Official academic record showing that you have a degree, diploma, certificate, or similar award from a college, university, school, or other institution of learning relating to your area of exceptional ability
Letters documenting at least 10 years of full-time experience in your occupation
A license to practice your profession or certification for your profession or occupation
Evidence that you have commanded a salary or other remuneration for services that demonstrates your exceptional ability
Membership in a professional association(s)
Recognition for your achievements and significant contributions to your industry or field by your peers, government entities, professional or business organizations
Other comparable evidence of eligibility is also acceptable.
Family of EB-2 Visa Holders
Your spouse and children under the age of 21 may be admitted to the United States in E-21 and E-22 immigrant status, respectively. During the process where you and your spouse are applying for permanent resident status (status as a green card holder), your spouse is eligible to file for an Employment Authorization Document (EAD).